Carrot Cake Waffles: The Perfect Easter Brunch
Easter is just around the corner, and it's the perfect time to gather with family and friends to enjoy a delicious brunch. While there are many classic brunch options, there's one recipe that's sure to stand out and add a touch of sweetness to your Easter morning – carrot cake waffles!
Combining the classic flavors of a carrot cake with the convenience and fun of waffles, these carrot cake waffles are the perfect addition to any Easter brunch menu. They're easy to make, customizable, and absolutely delicious. Not to mention, they're a great way to use up any leftover carrots you may have in your fridge.
In this blog post, we'll walk you through the step-by-step process of making carrot cake waffles, including tips for customizing the recipe to your liking. Plus, we'll share some ideas for serving them, including toppings and accompaniments that will make your Easter brunch extra special.
So, whether you're a seasoned chef or just starting out, get ready to impress your guests with this unique and mouthwatering recipe. Let's dive in and learn how to make the perfect carrot cake waffles for Easter brunch!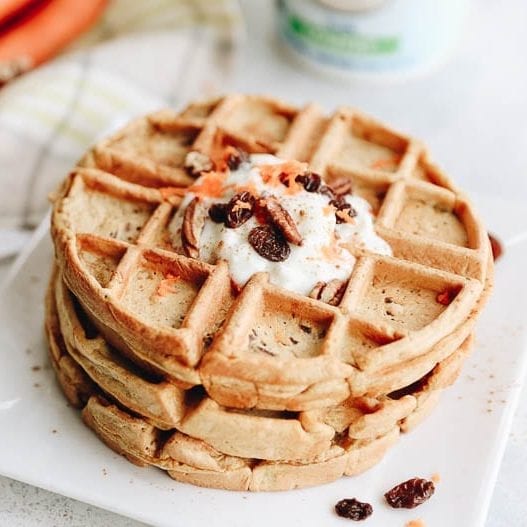 Ingredients :
2 cups all-purpose flour
1/4 cup granulated sugar
1/4 cup brown sugar
2 teaspoons baking powder
1/2 teaspoon baking soda
1/2 teaspoon salt
2 teaspoons ground cinnamon
1/4 teaspoon ground ginger
1/4 teaspoon ground nutmeg
1/4 teaspoon ground cloves
1/2 cup grated carrots
2 eggs
1/2 cup unsweetened applesauce
1/2 cup milk
1/3 cup vegetable oil
1 teaspoon vanilla extract
Equipment :
Waffle maker
Mixing bowl
Whisk
Grater
Measuring cups and spoons
Instructions :
Preheat your waffle maker according to its instructions.
In a mixing bowl, whisk together the flour, granulated sugar, brown sugar, baking powder, baking soda, salt, cinnamon, ginger, nutmeg, and cloves until combined.
Stir in the grated carrots.
In another bowl, whisk together the eggs, applesauce, milk, vegetable oil, and vanilla extract.
Pour the wet ingredients into the dry ingredients and whisk until just combined. Be careful not to overmix, as this can result in tough waffles.
Pour the batter onto the preheated waffle maker, using the recommended amount for your waffle maker. Cook until the waffles are golden brown and crispy on the outside.
Serve the waffles hot, topped with your favorite toppings such as whipped cream, cream cheese frosting, maple syrup, nuts, or fresh fruit.
Tips for Customizing the Recipe :
Add 1/2 cup of chopped pecans or walnuts to the batter for a crunchy texture.
Replace the grated carrots with grated sweet potato or zucchini for a twist on the classic recipe.
Swap out the applesauce for mashed banana or pineapple for a different flavor.
Use coconut oil instead of vegetable oil for a subtle coconut flavor.
For a gluten-free option, replace the all-purpose flour with a gluten-free flour blend.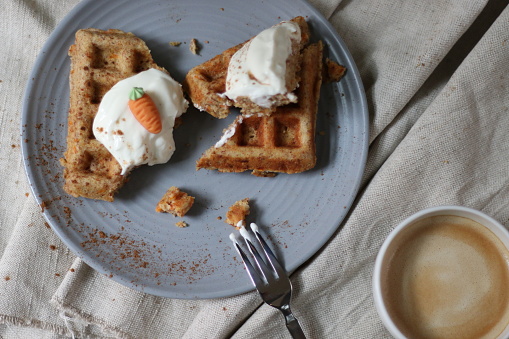 Ideas for Serving :
Top with whipped cream cheese frosting and chopped walnuts for a dessert-like treat.
Serve with maple syrup and bacon for a savory and sweet combination.
Add a dollop of Greek yogurt and fresh berries for a lighter option.
Drizzle with honey and sprinkle with cinnamon for a simple yet delicious breakfast.
Make a waffle sandwich with a fried egg and ham for a hearty brunch option.
Carrot cake waffles are a fun and delicious twist on a classic breakfast dish that are perfect for Easter brunch or any occasion. With their fluffy texture and warm spices, they are sure to satisfy your sweet tooth while also sneaking in some veggies. Plus, this recipe is customizable, allowing you to experiment with different ingredients to find your perfect combination.
To serve, top your waffles with your favorite toppings or get creative with a waffle sandwich. With their versatility and irresistible flavor, carrot cake waffles are a delightful addition to any brunch menu.
We hope this recipe has inspired you to try something new and delicious this Easter season. Happy brunching!