Chocolate-Filled Doughnuts: Tempting Treats for Every Sweet Tooth
Welcome to our blog, where we dive into the delightful world of Chocolate-Filled Doughnuts! If you have a sweet tooth and an unwavering love for chocolate, you're in for a treat. These delectable creations combine the heavenly taste of chocolate with the comforting and indulgent nature of doughnuts, resulting in an irresistible combination that will leave you craving for more.
Whether you're a home baker looking to perfect your doughnut-making skills or a chocolate enthusiast seeking the ultimate chocolate-filled experience, this blog is tailored just for you. We'll share helpful tips, step-by-step recipes, and creative ideas to take your love for chocolate-filled doughnuts to new heights.
Get ready to satisfy your cravings, discover new flavor combinations, and find inspiration to create your own tempting treats. Chocolate-Filled Doughnuts are here to captivate your taste buds and bring a little bit of sweetness into your life.
Indulge yourself in the world of Chocolate-Filled Doughnuts – the perfect temptation for every sweet tooth. Let's dive in and explore the magic together!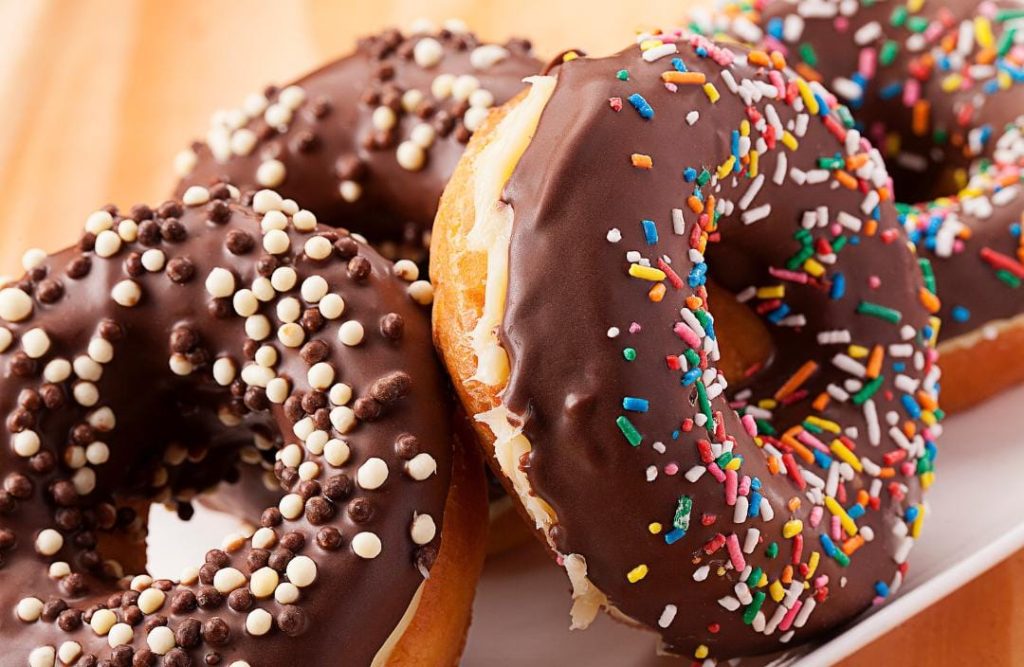 Ingredients :
2 ¾ cups all-purpose flour
¼ cup granulated sugar
2 ¼ teaspoons instant yeast
½ teaspoon salt
½ cup warm milk
2 tablespoons unsalted butter, melted
2 large eggs
Vegetable oil, for frying
½ cup chocolate-hazelnut spread or your favorite chocolate ganache (for filling)
Powdered sugar, for dusting
Equipment :
Fryer (with temperature control)
Mixing bowls
Whisk or electric mixer
Measuring cups and spoons
Rolling pin
Biscuit cutter or doughnut cutter
Piping bag or plastic sandwich bag (for filling)
Slotted spoon or spider strainer
Cooling rack
Instructions :
Activate the yeast:

In a small bowl, combine warm milk and a pinch of sugar.
Sprinkle the instant yeast over the milk and let it sit for about 5 minutes until foamy.

Prepare the dough:

In a large mixing bowl, whisk together flour, sugar, and salt.
Add the activated yeast mixture, melted butter, and eggs to the dry ingredients.
Mix everything until a sticky dough forms.
Transfer the dough to a lightly floured surface and knead for about 5 minutes until smooth and elastic.

First rise:

Place the dough in a greased bowl, cover it with a clean kitchen towel, and let it rise in a warm place for about 1 hour or until doubled in size.

Shape the doughnuts:

Once the dough has risen, gently punch it down and roll it out to a thickness of about ½ inch.
Use a biscuit cutter or doughnut cutter to cut out doughnut shapes.
Place the doughnuts on a lightly floured baking sheet, cover them, and let them rise for another 30 minutes.

Heat the fryer and fry the doughnuts:

Fill the fryer with vegetable oil and preheat it to 350°F (175°C).
Carefully place a few doughnuts into the hot oil, frying them for about 2-3 minutes per side until golden brown.
Use a slotted spoon or spider strainer to transfer the fried doughnuts onto a paper towel-lined plate to remove excess oil.

Fill the doughnuts:

Allow the doughnuts to cool slightly.
Fill a piping bag or plastic sandwich bag with the chocolate-hazelnut spread or chocolate ganache.
Insert the tip of the bag into each doughnut and pipe a generous amount of chocolate filling inside.
Customization Ideas :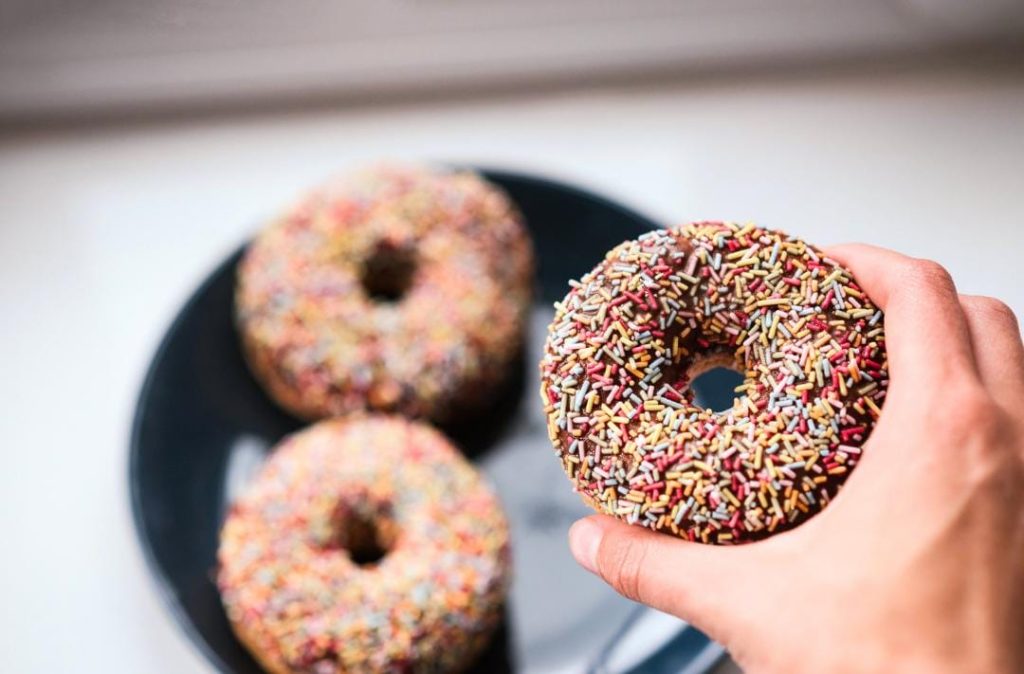 Drizzle melted white or dark chocolate over the filled doughnuts for an elegant touch.
Sprinkle chopped nuts, colorful sprinkles, or shredded coconut on top of the chocolate filling for added texture and visual appeal.
Dust the doughnuts with cocoa powder or cinnamon-sugar for an extra flavor boost.
Serving Ideas for Chocolate-Filled Doughnuts :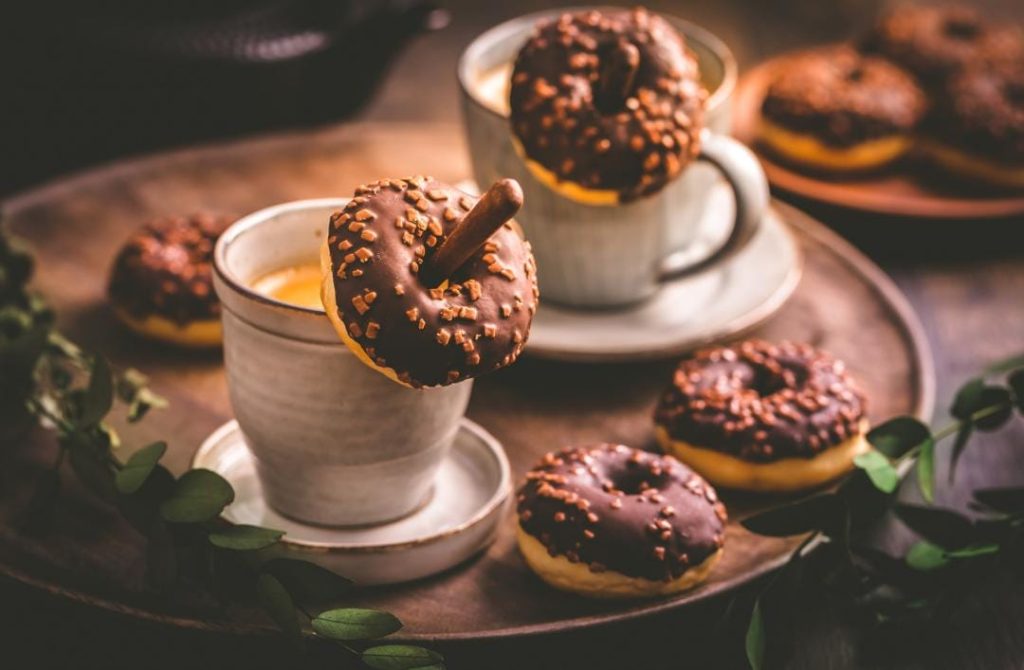 Serve the Chocolate-Filled Doughnuts warm as a delicious breakfast treat or indulgent dessert.
Pair them with a cup of hot coffee or a cold glass of milk for a delightful combination.
Share them at brunch gatherings, birthday parties, or special occasions to impress your guests with homemade goodness.
With this recipe, you can bring the joy of freshly fried, chocolate-filled doughnuts to your kitchen. Embrace the customization options to make each batch unique and enjoy these delectable treats. Happy frying and savoring the irresistible goodness!